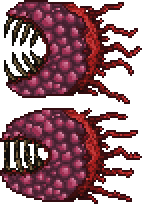 Death Eye

Damage

60

Defense

40

Life Max

150

Buff Immunities

Poisoned

On Fire!

Cursed Inferno

Drops

Odd Acorn(25%)

Suspicious Looking Eye(50%)

The Death Eye is a rare mutated form of eye of Cthlulhu. It is extremely rare to be found out of hardmode and is mostly found in hardmode. It resembles Wall of Flesh's eye's.
Ad blocker interference detected!
Wikia is a free-to-use site that makes money from advertising. We have a modified experience for viewers using ad blockers

Wikia is not accessible if you've made further modifications. Remove the custom ad blocker rule(s) and the page will load as expected.